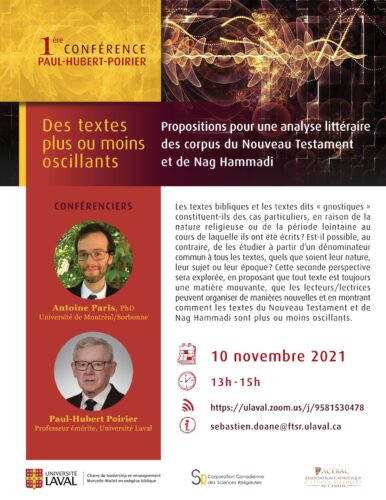 The Paul-Hubert-Poirier conference is the first in a series of events organized by the Canadian Corporation for Religious Studies (CCSR). The conference's name honours historian and emeritus professor Paul-Hubert Poirier's significant contribution to religious studies. This first edition is organised by the Association catholique d'études bibliques au Canada (ACÉBAC) and hosted by Université Laval's chair in biblical exegesis.
https://www.exegese-biblique.ftsr.ulaval.ca/evenements/des-textes-plus-ou-moins-oscillants-propositions-pour-une-analyse-litteraire-du-nouveau-testament-et-de-nag-hammadi
Wednesday November 10, 2021, between 1 and 3 p.m. 
Link: https://ulaval.zoom.us/j/9581530478
Contact: sebastien.doane@ftsr.ulaval.ca