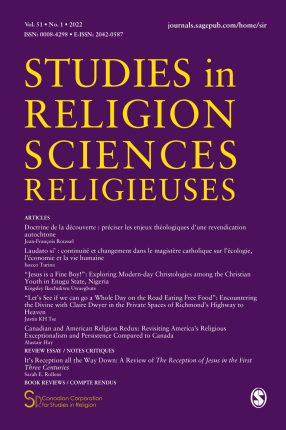 Latest issue of the Studies in Religion journal
Studies in Religion / Sciences Religieuses is a peer-reviewed, bilingual academic quarterly serving scholars who work in a wide range of sub-fields within religious studies and theological studies.
You are a subscriber of SR via one of the constituent societies of the Corporation?
Log in to our site for full access to
Studies in Religion
content at Sage Journals.
Learn more
.
In 2021 we will celebrate the 50th anniversary of the Canadian Corporation for Studies in Religion. There is much to celebrate.
Recents publications
Matière à pensée
La participation des groupes religieux à la vie urbaine
Annick Germain et Frédéric Dejean (dir.)
Nous vivons dans des sociétés largement laïques et sécularisées ; pourtant, la présence des groupes religieux dans l'espace urbain dessine une géographie inédite et fait émerger, aussi bien chez les chercheurs que chez les élus et les fonctionnaires, de nouveaux questionnements. Comment une ville devient-elle inclusive et peut-elle favoriser les…
Studies in Religion / Sciences Religieuses
News and announcements
Université de Montréal
The Institute of Religious Studies is seeking applications for a full-time tenure-track position as an assistant professor in Spirituality and Religious Ethics.  For more information, please see the posting.
April 27-28, 2023
L'innovation théorique et conceptuelle dans l'étude de la religion : recompositions, émiettements, actualisations
The Société québécoise pour l'étude de la religion (SQER) invites researchers interested in theoretical and conceptual innovations in the field of religious studies to submit a proposal for a paper, roundtable, or panel for the biennial conference that will be held on April 27 and 28, 2023 at Université du…
Summer 2022
This summer, the student representatives of the CCSR and its member societies will host social writing sessions over Zoom. Join us to connect with other graduate students and make some writing progress! Register here: https://uottawa-ca.zoom.us/meeting/register/tJYvde6grDMtGdBjN-BhIOfIzcZiQCrdmAw0#/registration