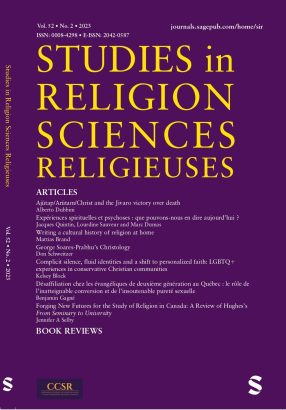 Latest issue of the Studies in Religion journal
Studies in Religion / Sciences Religieuses is a peer-reviewed, bilingual academic quarterly serving scholars who work in a wide range of sub-fields within religious studies and theological studies.
You are a subscriber of SR via one of the constituent societies of the Corporation?
Log in to our site for full access to
Studies in Religion
content at Sage Journals.
Learn more
.
Due date: December 8, 2023
The CCSR now accepts applications for the 2024 Research and Travel Scholarships. A total amount of $7,500 CAN will be distributed among the successful applicants. Scholarship recipients must complete their travel or purchase their research-related materials by the end of 2024. Please send your application as one single PDF file before…
Recents publications
Studies in Religion / Sciences Religieuses
Studies in Religion / Sciences Religieuses
News and announcements
The Canadian Corporation for Studies in Religion is pleased to offer four travel scholarships for research in 2023. Here are the recipients: Sadaf Ahmed, PhD Student, University of Toronto, member of CASIM This project focuses on second-generation Muslim parenthood in Canada. Raised by "immigrant parents" themselves, I trace the…
Call for Papers
Due Date: January 18, 2023
The Canadian Society of Biblical Study invites proposal for its 2023 Annual Meeting on May 27–29, 2023. This meeting will be held in-person as a part of the Congress of the Social Sciences and Humanities, which is being hosted by York University. Please submit your proposals before January 18, 2023. For…
Call for Papers
Due Date: January 19, 2023
The Association for Canadian Jewish Studies invites proposals for its 2023 Annual National Conference taking place at York University, Monday to Wednesday, May 29-31, 2023, in association with the Vered Jewish Canadian Studies Program at the University of Ottawa, the Concordia Institute for Canadian Jewish Studies, the Israel and Golda…