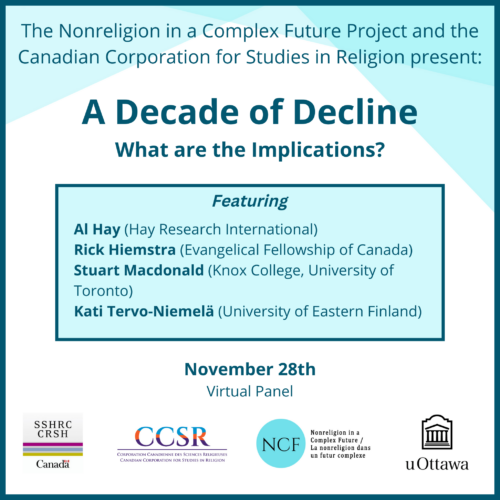 On November 28, 2022, the Nonreligion in a Complex Future project and the Canadian Corporation for Studies in Religion (CCSR) hosted the virtual panel "A Decade of Decline: What are the implications?"
The newly released 2021 Canadian census data on (non)religion contained some surprises. While religious affiliation continued to decline and non-Christian religions continued to grow, the magnitude of change was unexpected. In this virtual event, which took place on November 28th, panelists Al Hay (Hay Research International), Rick Hiemstra (Evangelical Fellowship of Canada), Stuart Macdonald (Knox College, University of Toronto), and Kati Tervo-Niemelä (University of Eastern Finland) explored the implications of these findings for the present and future of (non)religion in Canada.
You can find the recording of the panel here.